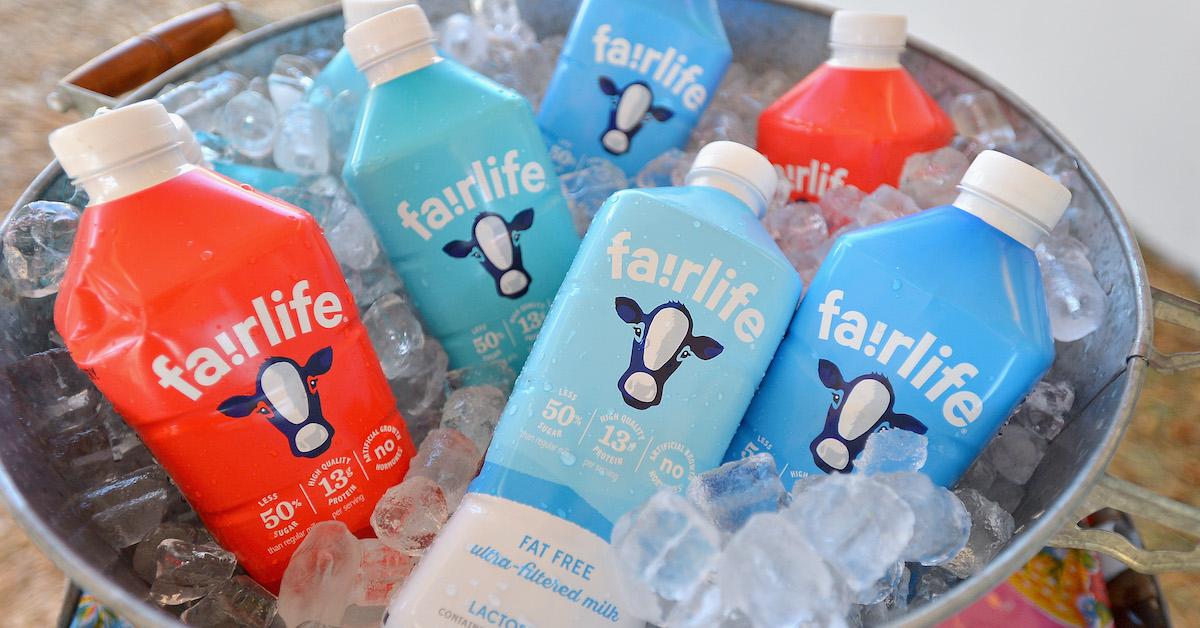 In June 2019, undercover footage of appalling animal abuse at a dairy farm that supplied milk to Fairlife went viral, prompting many customers to boycott the "ultrafiltered" milk company that had claimed to care about animal welfare.
Now, as we come up on the two-year anniversary of the Fairlife milk animal abuse controversy, many are wondering exactly what happened at Fair Oaks Farms, why exactly people are boycotting Fairlife, and what they can do to stop animal abuse.
Article continues below advertisement
In case you need a refresher, here's a recap of the Fairlife investigation.
Article continues below advertisement
A Fairlife milk investigation revealed animal abuse at Fair Oaks Farm.
In early 2019, an investigator from the animal rights organization Animal Recovery Mission (ARM) went undercover by getting a job as a "milker" at Fair Oaks Farms in Indiana, which supplies milk to Fairlife (among other companies), according to the organization. He took undercover footage of the dairy farm during his few months working there, providing ARM with "undeniable evidence of inherent cruelty subjected daily to dairy cows within industrialized food production systems."
In June 2019, ARM published a video (warning — it's brutal) of the investigator's most shocking footage, which quickly went viral. People all over the world were horrified to see evidence of such unnecessary abuse at the farm.
Article continues below advertisement
"Employees were observed slapping, kicking, punching, pushing, throwing and slamming calves," ARM said in a statement at the time, as per TODAY. "Calves were stabbed and beaten with steel rebars, hit in the mouth and face with hard plastic milking bottles, kneed in the spine, burned in the face with hot branding irons, subjected to extreme temperatures, provided with improper nutrition, and denied medical attention."
"This resulted in extreme pain and suffering by the calves, and in some cases permanent injury and even death," the statement continued.
Article continues below advertisement
As ARM noted, both Fair Oaks Farms and Fairlife have built their brands around animal welfare. "Ensuring that the animals who provide fairlife dairy products are cared for and cared about is a top priority for fairlife," reads Fairlife's website, while Fair Oaks Farms claims to be "committed to ... caring for our animals."
Claims like these inspire people to choose these products, because they believe that they are better. However, this footage was a wake-up call to dairy consumers everywhere.
Customers responded by boycotting Fairlife milk.
Soon after the footage came out, many consumers vowed to boycott Fairlife, and buy milk from otherdairy brands instead. Others boycotted dairy entirely, and switched to non-dairy milk, cheese, and ice cream.
Article continues below advertisement
Unfortunately, the practices seen on Fair Oaks Farm are not uncommon in the dairy industry. While Fairlife's investigation went far more viral than any other undercover footage from a dairy farm has, there have been many other videos and documentaries revealing animal cruelty across the dairy industry and animal agriculture industry as a whole.
But the most powerful move came from the midwestern grocery stores who actually stopped selling Fairlife products — including Jewel-Osco, Tony's Fresh, Casey's, and Family Express, according to TODAY.
Article continues below advertisement
Here's how Fairlife and the Coca-Cola Company responded to the controversy.
Fairlife is owned by the Coca-Cola Company, and the corporation responded to the undercover footage by stating that Fairlife immediately stopped sourcing milk from Fair Oaks Farms after the footage was released, and that Fairlife planned to launch an animal welfare advisory council of experts.
Article continues below advertisement
You can read more about the audits that Fairlife pledged to take on the brand's website; however, the brand did claim to already have governance measures in place before the investigation, so many customers may find it difficult to trust these new procedures.
ARM's Fairlife investigation proved that there is no way to truly know what is happening behind a farm's closed doors. The organization put out a few calls to action to people who were affected by the heartbreaking footage —ARM asked people to sign its petition, to ask stores to stop carrying Fairlife, and to leave dairy products off their plates.